Sleep now in the fire

School has been a total waste of time this week. So unproductive and so tiring. But at least after school activities have been relatively enjoyable.
Okay, lo and behold.

DOTA again with 8 others - Jo / Fernie / Rachell / Rongcheng / Qibin / Lester / Randall / Arthur
after school yesterday! hahaha. it was frikkin fun i swear.
we gave chinese a miss (who gives a damn about lucy) and hopped our silly asses down to the lan shop opposite paradiz.

The entire shop was filled with screams and laughter and yells and whatnots, just go and imagine. "Omg, arthur is here, run run!" , "Qibin where are you where are you! & Just behind you la relax!" , "Omg jo jo, run!!" , "Omg Rongcheng is here, run run!" , "Omg Rachell is there, quick run after her!" , "Toi, where are you where are you! & In heaven la, i died already!" , "Ahh! I see light/toi! Dragon save me!" and whatnots. Hahaha drop dead funny.
Even the group of guys behind us were gawking at how mad we seemed.

After two victorious games, Jo and i rushed alllll the way down to the cathay to meet part of the clique. Beck / Nat / Ninny / Qi / Sham (and Nat's friend)
Caught Stay Alive and hahaha it is super duper lame.
After which Ninny and Qi left and so did Nat and her friend and the rest of us went to eat and rc came along.
It's nice to see them after so long. :)

PW sucks.
Off to do something bout it.
And so does my lit teacher. that spastic person confiscated my lit NOTES.
all cos i drew a picture of her and she had a slight glimpse of it while teaching and just cos i replaced the paper with something else and she had no frikking proof, she confiscated my notes. she's number one i swear.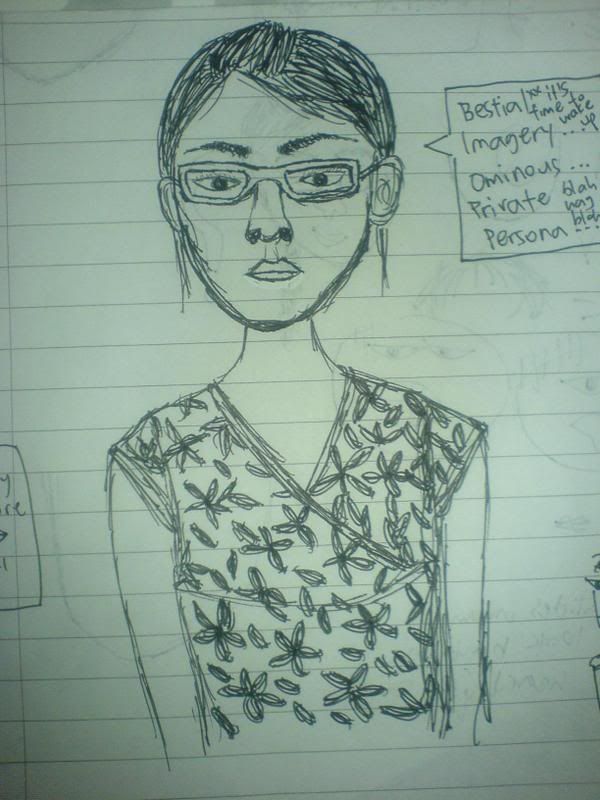 Her. Looks like her anyway, that horrible ol hag.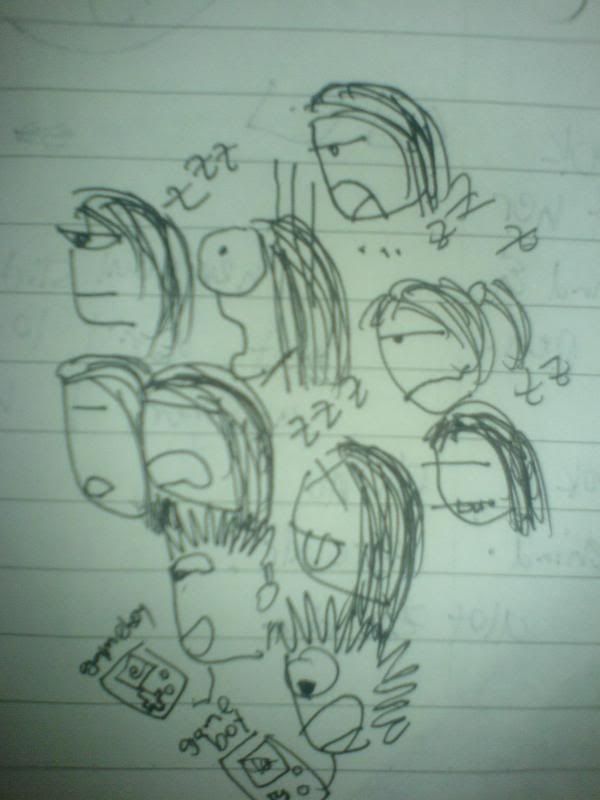 Everyone else in class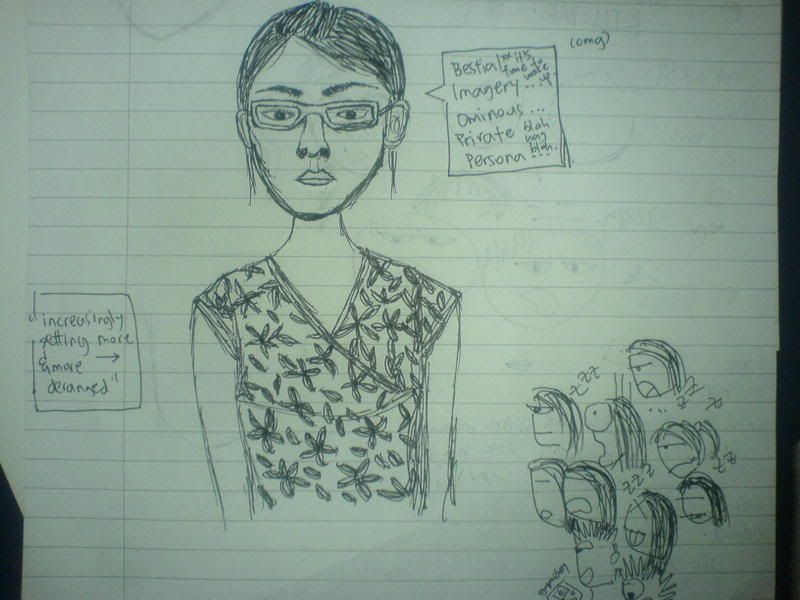 Her and everyone else in class.

Replies



Lester: haha OKAY, that was obviously a mistake. wahaha!





Jan: haha ahem ahem no please! i knew about dota long ago and i played warcraft since primary school already la! haha you idiot. i had 15 kills and 1 death once lor please. still got beyond godlike before. hahaha you got or not! :P





Fernie: hahahaha OMG. thank god for you in lit or i would have died. Plus chris too of course. SHEESH.





xiling: haha you'd do well for promos! results are coming out soon :S





nicc: haha everyone knows she's stupid. haha anyway after my h1 meet up soon! :D





Nat: hahahaha you guys are better than her in every way la! period. :)





chrissy: lol hahahaha i dont really give a damn about her anymore. anyway, nice to gossip with you while skipping lit. :D





akiko: haha yeah thanks alot. :D



# Monday, October 02, 2006; 9:32:00 PM

A movie script ending

It's been a little long since i last blogged, but anyhow, I am ultimately glad that H2 promos have finally been called to an end last wednesday. Now all i have is lit and boy am i happy. But I see myself facing being retained. Sigh.
The last few days have been rather enjoyable.

Wednesday,
The Banquet and John Tucker with class.

Thursday,
Dota! with lester qibin arthur and ryan.
Simlim with rongcheng, in search for PC games!

Friday,
DOTA! again, yes. -arthur and lester and qibin and ryan AGAIN.
headed down to jo's house later on to watch house of wax. along with fernie. screamed, yelled and acted like kiddos. soo much fun. :)

Saturday,
billy bombers with usual MI people.
by which after so, down to far east to meet jo and i had my hair cut. woohoo.
and OKAY, dota again. Yup, again. we have officially become hard core dota players.
-arthur ryan rong cheng and JO. yes jo. muahahahaha. :D now i am no longer the only girl.

Sunday,
slacked at home the entire noon, and simlim with rongcheng again to change my PC games for others. now i am partially satisfied. :)

Monday,
Dragged my lazy big fat ass to school just for chinese, PW and lit. hahaha.
shopped with chris,
met up for PW,
and DOTADOTADOTA AGAIN with - lester, songyao, celine, charmaine, lester, qibin and jo!
SO FUN I SWEAR, I AM ADDICTED TO DOTAAAAAAAAAAA!


HEHEHEHE
DOTA AGAIN SOOOOOOOOOOON!!!!

#